Single phase ac drive (VFD) for 220v, 230v, 240v to three phase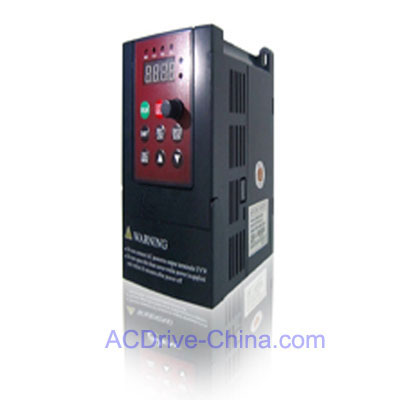 Overview
Single phase VFD drive normally is used in 200V AC to 240V AC in low power applications, like small pumps. The AC motor's input need to be three phase as all of the drives are three phase output. In our factory, the 1 phase AC drives, from 0.4kW to 2.2kW.
This single phase AC drive is the updated generation driver of 5000 series which is stop production. Due to the new technology being used in the drives, this kind of single phase AC drive is in high performance & more stable against the old one. Also, the updated single phase AC Drive which is manufacturing by our factory has inherit the advantage features, like vector control, RS 485 communication, powerful overload ability and much more.
Main features of the 1 phase AC drive (VFD)

• Power range: 0.4kW to 2.2kW
• Vector control single phase variable frequency AC drive
• 32 bit high speed CPU special for AC motor control
• Low frequency with high start torque: 0.5Hz/150%
• Simple PLC with multi-step control function
• Simple servo fixed-length control function
• Multiple programmable multi-function input/output terminals
• Dynamic torque current control, rapid response to load's change
• Offer RS485, support MODBUS-RTU communication protocol
• Close-loop control with built-in PID
• Wobble frequency control special for spinning
• Load distribution control function
• Online modify and check parameters of the AC drives
• Special speed tracking function without impact
• Rich fault protection and operation monitoring function
• Built-in brake unit
Application
Fan & pump, Packaging, Textile, printing, CNC machine, Paper & printing, Metal, Glass, Plastic machining, Petrochemical, Chemical fiber
Find
special frequency inverters for injection molding machine
here.